The Daily Game
Play Your Best Life
A Fun Daily Mastery Program for busy people who want to realize their big goals, one day at a time

3 minute morning prep
5 minute evening review
8 minutes to unlock the potential in your day
---
Start Your Morning And Open Your Day
Your morning email with the Cards of the Day will be in your inbox at 5 AM with a link to...

Clarify your expectations for the day
(read or listen to three short paragraphs)
Establish your mindset for the day
(focus your mind with a simple statement)

Optimize your results during the day
(utilize this one sentence strategy)

Attune your consciousness for the day
(listen to a one-minute guided meditation)
---
Reflect In The Evening And Close Your Day
Your evening email with the Result Card of the day will arrive at 7 PM with a link to...




Reflect on your game and track your performance 
Using the online journal worksheet and question prompts, clarify your "wins" and illuminate ongoing growth opportunities.
When you're finished, click the button to mark your day Complete. 
Invest about 3 minutes of your time in the morning and 5 minutes in the evening

For about $1 a day, you get a daily, interactive, complete framework for activating your best life.

And if you want accountability, coaching, healing, and support, join us in our Daily Game Community as well.

And the best part is that it's fun to play!
You won't know how much fun it is or how it impacts your life until you experience it for yourself.
So, try The Daily Game Free for 7 Days. 

Simply click the orange button to start playing.
with love,
Alexander & Viki


The Daily Game
$33 / month
Self-Paced & Self-Directed
Daily Email
Daily Wisdom
Daily Mantra
Daily Key
Daily Meditation
Daily Mastery Exercise

The Daily Game Community
$55 / month
Community Based with Group Coaching
Daily Email, Daily Wisdom, Daily Mantra, Daily Key, Daily Meditation, Daily Mastery Exercise

+ Access To Our Private Chat Forum
+ Community Connection
+ Accountability & Support
+ Monthly Teaching To Play Your Cards Right
+ Monthly Q & A Coaching Call on the 1st of each Month

Find Your Tribe: The Daily Game Community 

Join us as we play the game of life together. 
Talk Cards! 
Interact with other like-minded people who are all focused on playing their cards right.
In our community forum...
Post your stories from the day
Share anecdotes and experiences
Find validation in the surprisingly similar experiences that others are having on the same day
You can also
Introduce yourself and get to know each other
Ask us questions about your cards to play
All together, you will
Gain confidence in your ability to play your cards right
 

See a screenshot example from our Community Forum...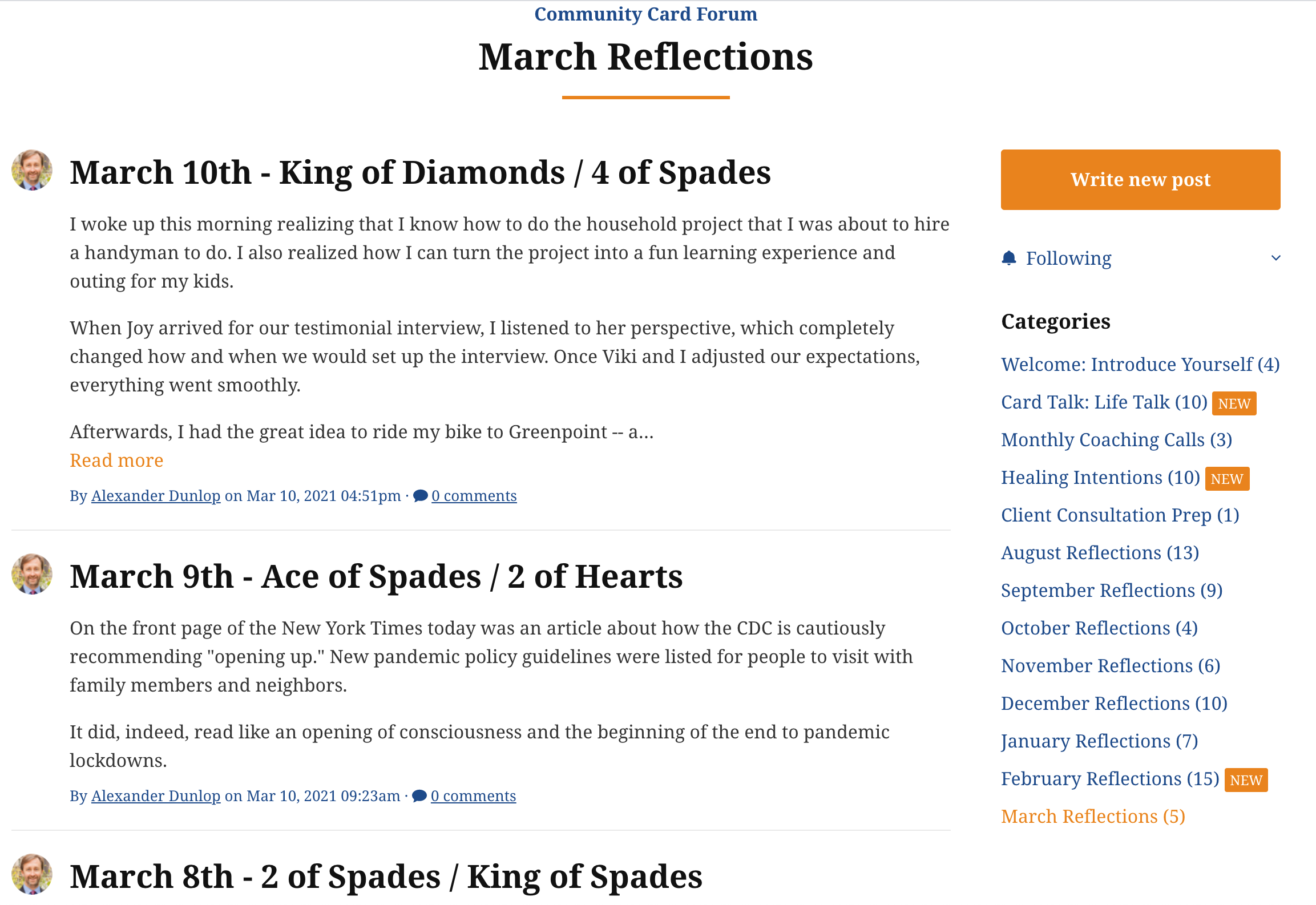 ---
Monthly Teaching
Each month we focus on a specific Life teaching based on the Card of the Month.
These Life teachings are applicable to everyone regardless of your individual cards to play. Learning these Life teachings will help you to play your cards right in your life.
For example, each month, you will learn things like
How to act with emotional intelligence in your relationships
What does it mean to trust your own intuition to guide you
How do you manifest the life experience you prefer to have
What does it mean to generate real value in your life
Monthly Coaching & Healing Call
These calls will be on the 1st of the month each month and they will be recorded.
Each month in our Community Forum, you write in your Healing Intentions and Ask Your Questions and we will answer your questions on the call and include your healing intentions on the call. Then, you can listen to the recorded answers to your questions at your leisure.
Or join us live and ask us questions live and participate in the healing live.
Also, the healings are timeless. So, you will receive the benefit of the healing even if you cannot join us live.
In a community setting, it's very helpful to hear other people's questions and to hear us coaching other people. It will help you to clarify your own best strategy in life to play your cards right.
The Daily Game
$33 / month
Self-Paced & Self-Directed
Daily Email
Daily Wisdom
Daily Mantra
Daily Key
Daily Meditation
Daily Mastery Exercise

The Daily Game Community
$55 / month
Community Based with Group Coaching
Daily Email, Daily Wisdom, Daily Mantra, Daily Key, Daily Meditation, Daily Mastery Exercise

+ Access To Our Private Chat Forum
+ Community Connection
+ Accountability & Support
+Monthly Teaching To Play Your Cards Right
+ Monthly Q & A Coaching Call on the 1st of each Month